Meet the Doctors
Meet the Doctors
Hand Surgeons East Bay - San Franciso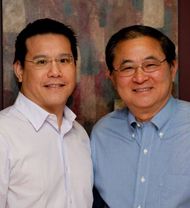 Nationally recognized experts in occupational hand injuries and cumulative trauma disorders. Dr. Douglas Chin is one of the few Hand & Upper Extremity Surgeons in the country devoted to the reconstruction of the hands.
Consultant surgeons to members of the San Francisco Symphony, San Francisco Opera, San Francisco Ballet, Golden State Warriors, and Oakland Police & Fire Department.
Douglas Chin, M.D., F.A.C.S
Board Certified Hand Surgeon
Dr. Douglas Chin's extensive medical and scientific training at the world's finest institutions has made him one of the premier hand surgeons in the San Francisco Bay Area. A graduate of Harvard College, where Dr. Chin studied under no fewer than three Nobel Prize winners, Dr. Chin attended the Massachusetts Institute of Technology and Harvard Medical School, where he received both medical and graduate degrees. Dr. Chin then received his general surgery training at New York University and Bellevue Hospital prior to completing his plastic surgery residency at the internationally renowned NYU Institute of Reconstructive Plastic Surgery. Dr. Chin's exceptional skills allowed him to study under some of the world's finest hand surgeons, orthopedic surgeons, microsurgeons, and reconstructive surgeons.

Prior to joining East Bay Hand & Upper Extremity, Dr. Chin served as Clinical Instructor in the Division of Plastic Surgery at UCLA, where he was a Fellow in microsurgery and upper extremity reconstruction.

Dr. Chin's knowledge and experience are shared in over 50 scientific and medical publications and lectures. He is known throughout the community for his sensitivity to the needs of each and every patient, his individualized care, and his dedication to providing the highest quality of medical and aesthetic care.

Licensed by the State of California as a Qualified Medical Evaluator and Certified by the American College of Disability Evaluating Physicians, Dr. Chin is a recognized authority on workers' compensation issues, industrial injuries, and upper extremity disabilities.
"As a hand surgeon, it's my calling not only to repair injuries and reconstruct hands. More importantly my role is to restore my patients' sense of identity and wholeness by returning them to what they love to do and help them be who they want to become."
-Dr. Douglas Chin
Glen K. Lau, M.D.
Certified Hand Surgeon
Certified Laser Surgeon
Certified by the American Board of Plastic Surgery
A graduate of Boston College and Tufts Medical School in Boston Massachusetts, Dr. Lau received his General Surgery and Plastic Surgery training at the University of California in San Francisco.

A member of the American Society of Plastic Surgeons and the Lipoplasty Society, Dr. Lau is a respected leader in the Bay Area plastic surgery community. He has performed over one thousand hand reconstructive surgery procedures.
WHY CHOOSE A PLASTIC AND RECONSTRUCTIVE SURGEON?
The field of hand surgery was created during World War II on the orders of President Franklin Roosevelt and Surgeon General of the Army Normal T Kirk, both men recognizing the need for plastic surgeons, neurosurgeons, general surgeons, and orthopedic surgeons to form a multidisciplinary military unit dedicated to saving and reconstructing the hands of soldiers mangled by explosives and artillery. Plastic surgeons were called into developing methods of reconstructing hands with severe fractures, dislocations, nerve injuries, amputations, and tendon injuries, and the field of hand surgery was born. Hand surgeons developed advanced microsurgical techniques for repairing nerves, connecting blood vessels, and transferring healthy tissues to replace damaged one.
Following in this rich multidisciplinary surgical heritage, Dr. Chin trained in General Surgery, Plastic & Reconstructive Surgery, Orthopedic Surgery, and Microsurgery, enabling him to approach difficult upper extremity problems from multiple vantage points and to apply a variety of cutting-edge techniques from each of the surgical fields.
OFFICE LOCATION:
SCHEDULE YOUR CONSULTATION TODAY!
Please contact us today to schedule an appointment or get more information about our hand and upper extremity surgical services.